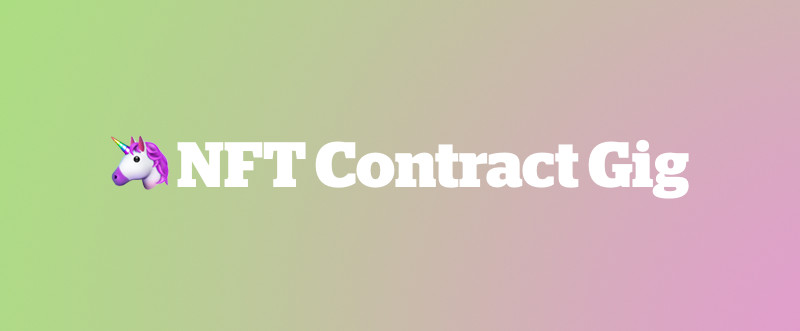 Fingerholers Contract Gig
TL;DR - Should I take a short term contract gig coordinating the development of a community around the launch of the NFT project Fingerholers, a bankroll management game developed with the artist Scott Teplin? (see Contract Details below for more specifics)
Background
Having just left my previous job I was excited when longtime shareholder and friend Drew Anderson offered me an opportunity to join the crew of an upcoming NFT project called Fingerholers.
At first glance Fingerholers appears to be a PFP NFT project, and it is that, but it's also a bit more! Fingerholers are the demented athletes and stars of an alternate world generated from the drawings of Scott Teplin, and Scott and the crew have built a game into this project.
In the Fingerholing in-game universe the sport of Fingerholing has become the most popular pastime in the land. The game works like this: you stick your finger into a hole and make a bet based on the odds it will not get chopped off. If you keep your finger you win the money, but if you lose your finger you also lose your wager. With every player limited to just ten losing bets, the stakes rise each time you lose a finger.
When someone buys an NFT of a Fingerholer they get to actually play the game! Starting with ten fingers they get to bet for as long as they have fingers and see how much they can make! It's a bankroll management game (but there is no real money, it's just a fun game mechanic) that echoes the world of speculation around crypto… can you play the odds just right and become rich and famous or will you lose all your fingers?
Why Do I Want To Work on Fingerholers?
Well, the name alone is pretty intriguing! :)
I have loved working with communities in web3 as part of my last job. That was all about social tokens, aka "fungible tokens." But the real communities that have formed in crypto have largely been around NFTs. There is a really fun opportunity here to capture the energy of indie gaming (like when I got to launch Change Wizard) mixed with the fun of generative art (when you mint an NFT it's like opening a pack of Pokemon cards, you have no idea what you're going to get!).
If you've scrolled through OpenSea you'll see a lot of a certain kind of crypto-art, much of it is … honestly, not that great. Fingerholers is not a project where the team has outsourced the visuals to someone on Fiverr. Scott Teplin is an artist with a distinct style and point of view and this project is about his work and applying that to a new medium. Through Scott's work this project has created more than just some generative characters. This is world building! There are places and stories and characters that all interact.
This project feels like the web3 version of working on something with friends when I lived in Portland. A grand vision and huge hopes, but also an indie project being run with a handful of folks who are all putting their spare time into it for the love of making art.
Of course the team has their fingers crossed (get it?) that there will be a financial upside from selling the NFTs, because everyone has put a lot of work into this already. But Drew has told me a few times now that this is about making art with friends, having fun, and is a bit of an experiment! This is exactly the kind of project I want to be a part of (even outside of web3).
This is the kind of work I want to do in my life. I want to be a part of a small team working on creative projects.
Contract Details
It's pretty speculative, which mirrors the nature of NFTs in general, and also the fictional world of Fingerholers.
I will be paid $2000 in cash and have a 5% stake in the initial mint (plus a couple of the NFTs).
The cash amount is relatively small but I'm one of the few on the team being paid anything up front. The percentage of the initial mint means there is a big opportunity, but no guarantee!
My role will be Community Manager, which means I'll be engaging with people who want to buy and play Fingerholers. I'll share the story of the work, create some events around the launch, and help to bring attention to the project.
The gig will run approximately two months leading up to the launch of the project. Based on the response we get (and at my discretion) I can remain and help run the community.
The Artist
The art is by Scott Teplin, an artist that has exhibited world-wide in museums and commercial galleries since 1998. You might have seen his Alphabet City project before? Check out his extensive body of work at teplin.com.
The Proposal
Take on a speculative contract to help launch the Fingerholers NFT project.
Votes

66% ✅ Approve - Accept The Contract
38% 🚫 Reject - Decline The Contract
4% 🤷‍♂️ Abstain - No Opinion
44 users voted with 2850 shares
---
Comments
pros:

working on a project with a shareholder/friend sounds like it would be fun and rewarding
a short well-defined role allows you to gain some runway as you figure out what you want to do next

cons:

nfts are divisive and it may alienate some shareholders (though from talking to drew i do think some consideration for the ecological impact has been thought through in terms of technology choices, e.g. using something like polygon and not a proof of work chain)

How many hours of work do you expect this to be? Are there any financial projections about how much money the mint will raise?

I'm personally predisposed to be negative about this project because I don't think it's clear why this involves NFTs (other than to take advantage of crypto-hype) and $2000 for 2 months of work sounds like developing world wages.

Full disclosure - I have a strong anti-NFT bias. I believe they are primarily a tool for fraudulent activity, and taking advantage of uninformed and easily influenced people. While crypto, as a larger concept, has both legitimate and illegitimate characteristics, NFTs (in my opinion) have essentially no redeeming qualities. I'll be disappointed if you end up contributing to this work.

yea if only for your interest and enthusiasm. Not a fan of most NFT projects. Like much of what is happening on chain right now, they feel ponzi-ish.

What's the opportunity cost here? Are there other (known) opportunities that you'd be passing up during this two month period?

I hate it. And voted yes. Capitalism

Alienation concern is correct.

For the time you are committing it doesn't seem like enough value. I think the general conceit of the game is fine, even though the NFT mechanics seem forced and I echo the concerns of other shareholders. It's more that I think your day rate is higher than what they are offering.

I hate the name so much I voted no

While I agree with beau's pros and also note that you are fan of NFTs, I personally feel quite strongly against NFTs. To Cat S's point, they're detrimental to an already-suffering-and-potentially-already-too-late-to-do-anything-about climate. To eubie's point NFTs are pretty scammy tbh, and a lot of naive folx lose a lot of money [there's a good Reply All episode about one of these moments - https://open.spotify.com/episode/3DRLj8cuVBIWhWwV5VLzVB?si=720c513c0fa641ba].

This may as well be a $2,000 contract to work on a startup version of Ed Hardy. The crappy-looking tshirts are only $$$ bc everyone [someone?] says so and same goes for NFTs. The illusion of exclusivity and wealth.

I want to make myself available to any shareholders that might have concerns about this proposal. This is an art project! It just so happens to be in the Web3 space. I'm super passionate about this and know our small team at Fingerholers will significantly benefit from having Mike join us. I hope this will reciprocate to Mike and the shareholders too. To address some concerns brought up and to answer some questions. If the project sells out, there's potential for Mike to pull in about 100K, depending on pricing and numbers. If just a small group of people buy into this project, the number might be closer to zero. That's why there's cash to offset the risk. I will do what I can to help Mike succeed in this role. I know the 2k for two months isn't a great wage; however, it's not a full-time job; it's part-time. I encourage Mike to explore all sorts of other options or to do anything else he wants. We all want him to succeed. I want to make it very clear to anyone buying into this project that it's an art project. We don't promise anything beyond it. When you step back and look at it, this is a satirical look at degenerate gambling. It is a social commentary about some of the ridiculousness surrounding the NFT space.

Mike might suck at this job. I doubt that will be the case. If he super sucks at this job, we will try to do what we can to give him the support he needs to succeed. We need help, I strongly believe Mike can provide that. It's to all of our benefits. It may be hard work, but I want it to be enjoyable.

Mike might not like working with us. If Mike doesn't like working with us or thinks we might be compromising his ethics or business practices, he can leave. I'll gladly give him 2K upfront he could bail tomorrow if he wants.

Your feedback is welcome. I will gladly listen to any feedback and be open to conversation about this. my twitter is @mohdi my phone number is 917-378-3437

Thank you so much.

Drew

Whoops.. my correct phone number is 917-379-3437 ....

Anyone that says crypto is destroying the planet - no, that's not how this works. Crypto uses barely anything compared to fiat. On top of that, the next Ethereum upgrade will reduce consumption to nearly zero.

Drew addressed a lot of the questions, but I'll run through them as well:

I think the number of hours will be "part time," with more time in the beginning as I get up to speed and then a little less as we enter a steady rhythm, with an uptick right around the launch. The $2K is a small advance/guarantee just so I'm not only working on the speculative price.

I appreciate the crypto and NFT skeptics! I know I have a lost a few shareholders as I've drifted further into the web3 space. And in terms of NFTs I just haven't done much with them, but I've grown optimistic. I think it's very easy to avoid the ponzi nature (do not promise future gains!) and just play with the new technology.

Opportunity cost is hard to calculate. I was planning on taking May and June off except to work with a few of the communities I deeply connected with while I was at my last job. This is actually the kind of work I'd like to do! A handful of smaller projects rather than one main job.

If you got paid upfront (ie they used your status already for PR) that's great. If you did not and this is an actual vote..... I think you are talented enough to move out of this BS arena. If you really believe you wouldn't be talking NFT, You would be talking specific portions of future tech that NFTs currently represent that may have actual value later. If you don't get it yet, https://impervious.ai/ have you looked at the market? You may get some runway from a cheap crypto shot, but history is watching and you are a brand not an individual, think bigger.