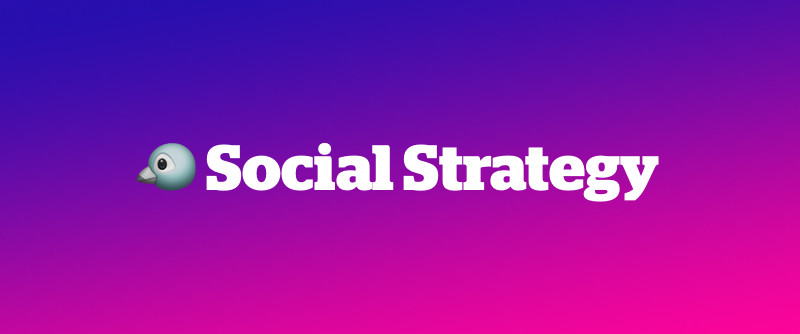 ✅
A Social Media Strategy
I think it's time to admit that as much as I love connecting with people, doing it in environments that are actively harmful is a violation of my ethics. I'm talking about using social media.
Currently I have a presence on just about every platform except for TikTok, and I primarily use Twitter with a dash of Instagram. But any app at scale that uses algorithms to "engage" people has proven to be harmful. I find the whole thing with problematic billionaires buying board seats gross. But the latest being this story of an incredible onslaught of online harassment of women with no response from Instagram:
Some women shared the messages they get on Instagram. It's not pretty.
This is a proposal to change how I use social media.
Option 1: Nuclear 🤯 Delete all accounts and stop using social media. No apps on my phone, no accounts on Instagram, Facebook, or Twitter.
Option 2: Broadcast 📡 Unfollow on all accounts. Do not use apps for consumption or interaction, but only for broadcasting of KmikeyM announcements.
Option 3: Dark Mode 🌑 Make all accounts private. Use apps for small group interactions with a primary focus on shareholders.
Option 4: A Break 📅 Less a solution and more a break to see how it feels. Take a six month break from interacting with social media. Use this to determine what is useful and provides value and where to go next.
Option 5: Status Quo 🤷‍♂️ It's fine. It's all... fine. Just keep going.
Votes

13% 🤯 Nuclear: Delete Accounts (instagram, facebook, twitter)
40% 📡 Broadcast: Unfollow Everyone (use platforms as broadcast only)
54% 🌑 Dark Mode: Go Dark (private account, keep groups small + private)
13% 📅 A Break: Six Month Break (stop posting / looking for six months)
11% 🤷‍♂️ Status Quo: No Change (find places to connect with people, even in this cesspool)
67 users voted with 4565 shares
---
Comments
I think it's a good idea to try getting off of it for 6 months and then revisiting this vote again with the information gather on the 6 month trial

I feel like you need to stay engaged, at least with your investors, so... I voted Status Quo, but my heart was telling me Dark Mode, tbh.

These all seem pretty drastic tbh. What's worked well for me is avoiding the main timeline but continuing to use social media in other ways. The main way I read content on Twitter now is by following specific Twitter lists. I've created a few lists of people in various communities I'm involved in, and read those timelines to catch up with a particular community at a time. That way I'm not sucked in to whatever the Twitter algorithm is trying to get me to engage with, I'm only reading things from people who I actually care about. I've also muted a handful of keywords to keep certain topics out of the timeline too.

one of the greatest solutions for twitter is also to turn off all re-tweets. but as much as I can fight to opt-out of the algo-influence, i think these platforms have been, are, and will continue to cause harm. so I made the options drastic as a way to cope with that idea. but I mean, just this morning it was nice to make some fun jokes with friends on twitter... i'm honestly torn on this one

Difficult choice as there is some information missing such as how much you interact with shareholders and prospective shareholders on these specific platforms. If I could vote other it would be:

Reduce to 2 (maybe 3) platforms that are most useful for communication (rather than news feeds)
Unfollow anyone/any group that does not fit with in a specific criteria (e.g., related to KMikeyM or your work or 2 or 3 key (healthy) interests)
Set a specific time/times a week for those interactions (e.g., from 6-8 on Tuesdays and 4-6 on Saturdays) - though I know timeboxing is perhaps unrealisitic
Otherwise, take a break from everything else and notice what arises

Other option would be a 30= or 60-day clense where you go offline and then reintroduce only what is necessary, what is true, and what is good...slowly to ensure that what you end up meets those criteria

I will wait a day to vote for any additional Q&A before voting. Absent that will go with Option 3 with the ideal that this is an interim step to either additional elimination or minimal reintroduction to a lesser public presence.

@burke - appreciate the thoughtfulness and will amend option 3 to include some of your thoughts

Social media isn't going away, but what we can change is our consumption and usage of it. My votes go toward either Broadcast (since that restricts usage in a meaningful way) or Dark Mode (if curation to a specific audience is the acceptable lesser evil).

As an individual, I'd say get the hell away from it. But as a publicly traded person I think you have a responsibility to shareholders for self-promotion, and right now, that includes social media. I think broadcast only is fine, but you have to be promoting the brand.

I got off of Twitter and Facebook in 2016 and have felt much better mentally not visiting them almost ever. For shareholders, I'd say broadcast, but as a person, I'd vote dark mode.

I feel like there is an option between #4 and #5 that you're not considering. Something along the lines of 'Continue using social with an intentionally raised level of situational awareness. Be mature in my interactions with others, speak truth with grace, participate in legitimate conversation around important issues, and ignore that which doesn't deserve attention.' It's not like using social is an all or nothing choice where if you're in, you have to believe everything you read, engage with every trending topic, and respond to every insane post.

For the sake of analogy... Fossil fuels are bad for the environment, lots of people are bad drivers, covering our communities with concrete roads is ugly, many people are injured and killed in automobile accidents every year, and many rich executives in the auto industry are terrible people. That doesn't mean that your only two choices are to sell your car and walk everywhere, or align yourself with everything bad about cars. There is middle ground.

I second reassessing after a 6 month trial

I think that it would be best to start with a 6 month break and then re assess the situation. My biggest concern is that seeing that part of getting your message out there is done through the social media quagmire it will hurt the expansion of the project to other people. I personally have stopped using all social media (Facebook - Deleted account, Twitter - gone dark, Instagram - dark, Linkin - monitor due to work). The reason that I have personally done this is due to the fact that social media has turned in to a world of keyboard warriors (both left and right) that will say anything because they are behind a keyboard. I became tired of anything that was posted becoming a flame war to see who could call the other person the worst thing that could be thought of. I mean when grandma's cookie recipes being posted becomes a forum for hate speech (again both left and right), well it was time to go.

First time voter here. I think social media and its algorithms can be bad but they're also a tool. As a public persona you should be using this tool to promote yourself and your brand. That being said, if you're letting the tool shape you and you feel your mental health deteriorating from using it too much then take a break. I voted to go dark mode as you have a community that wants to engage with you so being open to that then is important. Strongly oppose the nuclear option (irl too).

i highly recommend removing social media from your phone. i did this a few years ago and it makes all the difference. these applications are literally designed to be addictive.

you can also log out every time on your computer. it take a lot more intentionality to go and login to your accounts.

if you haven't read jaron lanier's book "ten arguments for deleting all your social media accounts right now" i suggest it. a few years old now, but still relevant.

I don't feel strongly about this, just wanted to be able to say "delete your account!" so I voted for nuclear option

@mike Thank you for the revision. 3 it is!

Didn't we vote to open up a new social media account for crypto just a few weeks ago?

This vote feels like a drastic and unexpected change of heart. I think I'm most concerned that you weren't aware of, or chose to ignore the general trends/mechanisms behind social media.

I voted broadcast because it is closest to status quo. As someone who formerly lead part of the team at Instagram responsible for bullying and harassment (and all the bad stuff in general) I support reduced or non-existant social media usage. However I have concerns with reduced brand awareness and discoverability that could harm the stock price.

I'll wait to hear a plan that supports marketability without social media before I vote to nuke.

Maybe I'm fired up because of the switcharoo on the Talkspace vote, lol.

Have to say I'm not satisfied with these options. I do think there's a responsibility to shareholders to not make KmikeyM as an entity and a community more insular and hard to keep up with, which I already think it can be hard at times because of where and how info is shared.

Great discussion here! I do want to highlight that the issue I have is that I believe social media is "bad" for society.

It's fine for me! I'm not addicted to it or anything. This is not about social media being a problem for me, it's about the problem of social media.

i switched my vote and now dark mode has a real chance of winning... i think that's the best option as it keeps most of the good parts and removes many of the bad parts
---
Results