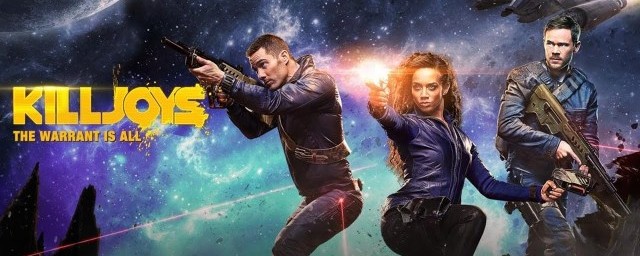 ❌
Killjoys (continue watching)
Killjoys is a space adventure drama series that follows a trio of hard-living bounty hunters—Dutch (Hannah John-Kamen), Johnny (Aaron Ashmore), and D'avin (Luke Macfarlane).
"If wanting to watch fun, quippy characters get into scrapes and survive by the skin of their teeth, on spaceships and alien planets, is wrong, I don't want to be right. Killjoys has just the right mix of guns, high-tech knives, assassins, cage fights, missions to hostile planets, dark secrets, tiny robot weapons and general space headbutting thrills to be the perfect treat for Friday nights." -Charlie Jane Anders of io9
I started watching this show not long after the superhero ban and it became my replacement for Agents of SHIELD as it's about a team of adventurers working together to solve problems and they keep uncovering bigger and bigger problems in the world. It's fun sci-fi that plays with all the tropes of the genre.
I'm currently two seasons in and would like to finish off the last three seasons.
9 users voted with 2504 shares
---
Comments
I also very much enjoyed this show

Based on the graphic above, I would guess that this show is very stupid.

Josh, they are space bounty hunters!
---
Results
Sadly, I will stop watching.