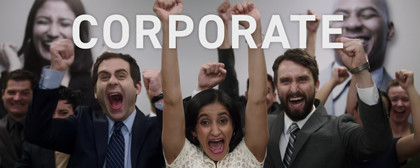 ✅
Corporate Season 3
Corporate is an American comedy television series created by Pat Bishop, Matt Ingebretson, and Jake Weisman. A ten-episode first season premiered on Comedy Central on January 17, 2018. On February 26, 2018, the series was renewed for a second season. Corporate's third and final season premiered on July 22, 2020.
Mike didn't enjoy the pilot of Corporate when he watched it back in 2018. However, being a publicly traded person who loves corporations, capitalism, and funny tv shows, he gave it another shot while trapped at home during the pandemic. And guess what? He fell in love!
The show is nearly cyperpunk with a dystopian view of life in the belly of the corporate beast, but with a cast of lovable and often horrible people. The relationship of Matt and Jake reminds Mike of the brotherly love between Hank and Britt from the great single season of Terriers (2010). But the fan favorite quickly becomes Grace, played by Aparna Nancherla, who might be the greatest comedic actor of our time.
Mike is already a few episodes in to season 3 of Corporate so the question is should he finish it?
9 users voted with 1887 shares
---
Results
Only six episodes on season 3? :(