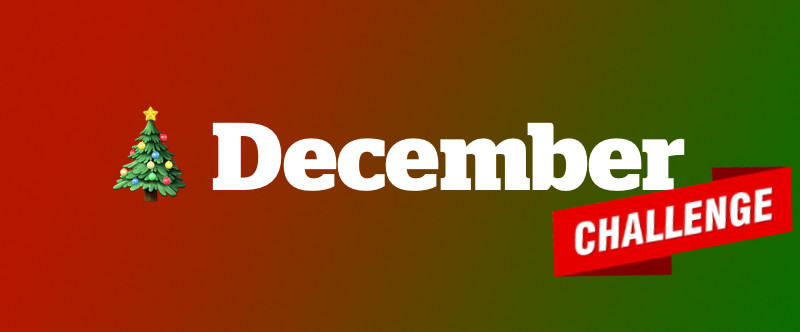 ❌
December '21 Challenge
Running a little behind this month! It's already the 4th of December. Okay, so I bought an AMC Stubs A-Lister pass this month so maybe I should just see 3 movies a week?
🎥 3 Movies per Week - For $0.99 I bought an AMC Stubs A-List Pass which allows me to watch three movies a week for free at AMC theaters (choosing this would pause the "no tights" policy).
🚴‍♂️ 500 Miles - Typically I ride about 300 miles a month, but I've been going to the gym more and swimming. Should I get back to biking?
📚 Five Books - I'm currently behind in my goal to read 65 books this year. Sadly I lost my Kindle flying back across the country, but I still want to reach my goal and I have piles and piles of unread books...
🥃 Stop Drinking - Just because it's a festive holiday doesn't mean I need to drink, right? Hmmm... This seems not that fun in December.
✍️ Write 1000 Words - Stephen King's writing advice is to start with 1000 words a day six days a week. My typical writing is emails, votes, and notes to myself, but I'd like to work on more structured creative writing and blog posts.
🧘‍♂️ Return to Sleep + Meditation Routine - When I started doing monthly challenges the first two were get 8+ hour of sleep every day and meditate at least 10 minutes every day. Both of those were successful but both those habits are no longer a daily success.
🍸 Drink Martinis - Maybe instead of not drinking I should try drinking something new. How about the only thing I drink all December long (in terms of alcohol) is martinis?
REMINDER: We're now using approval voting, so you can vote for all the ideas that you like!!
Votes

28% 🎥 3 Movies per Week
28% 🚴‍♂️ 500 Miles
52% 📚 Five Books
0% 🥃 Stop Drinking
46% ✍️ Write 1000 Words
57% 🧘‍♂️ Return to Sleep + Meditation Routine
43% 🍸 Drink Martinis
28 users voted with 3708 shares
---
Comments
Martinis may make for more entertaining poker nights

Hooray for Approval Voting!

Several feel a bit too extreme to me. Two movies a week would be cool but three is too many. One thousand words per day is a LOT. I know Robert Caro did that many, but it was his full time job as an author.

Voting for the movies because a lot of interesting stuff is coming out this month: Spielberg's 'West Side Story,' 'The Matrix Resurrections,' Sorkin's 'Being the Ricardos.' And if you pause the "no tights" policy, 'No Way Home' looks poised to potentially be the most interesting superhero movie in several years.

(Side question: how did you get an AMC A-List pass for 99 cents? Mine costs $22/month, and that's about the price I'm seeing online too.)

While publicly traded, I like to imagine the stockholders, at least the major stockholders be used as more of a board. Rather than make mundane decisions, look to identify the key strategies that will set you up to make better decisions. If I were on your personal board of advisors, would suggest: sleep and meditation. The two will improve clarity. With increased clarity, you can better find the answers to the other questions. Thus, the vote.

8+ hours of sleep makes everything else here easier to accomplish.

was not expecting that to be the winner, but i like it.
---
Results
Pretty much total failure. I was okay with sleep, taking naps if I fell under 8 hours, but was very bad at meditating.